Reap the Benefits of the 2013 Section 179 Tax Deduction
Purchase equipment for your practice before maximum write-off amounts are reduced in 2014
With the end of the year fast approaching, many dental practices are stocking up on supplies before the 2013 tax declaration deadline. Section 179 of the IRS tax code provides some real relief to dental practice owners purchasing equipment in 2013. If you are even thinking about purchasing equipment for your practice, now is the time to do it.  Starting next year, the current benefits of Section 179 are scheduled to be drastically reduced. The 2013 deduction limit of $500,000 will be reduced to $25,000 in 2014, and the equipment purchase limit of $2 million will be cut to $200,000.
SECTION 179 BASICS
While Section 179 doesn't increase the total amount you can deduct in a single year, it allows you to benefit from the deduction all at once. In other words, rather than having to deduct an asset's value over the course of several years, Section 179 allows businesses to get the entire depreciation deduction in a single year, a practice known as first-year expensing.
"Many business owners prefer to write off entire equipment purchases the year they buy it. In years past, many companies avoided purchasing new equipment because they'd have to wait several years to realize the tax write-off in its entirety" – Ryan Goodrich, Business News Daily contributor
According to regular depreciation rules, if  you were to purchase all-new high-speed handpieces for each of your operatories, you'd be obligated to deduct a portion of each handpiece's cost over multiple years. For the next five years, you'd only be able to deduct a fraction of the overall expense. With the Section 179 tax code, however, you are allowed to immediately deduct the entire expense of the handpieces in a single year instead of having to track their depreciation over time.
ELIGIBILITY AND QUALIFICATIONS
All new and used equipment is eligible for deduction up to $500,000 for 2013. All companies that lease, finance or purchase equipment with a total value of less than $2,000,000 still qualify for the Section 179 deduction. Expenses over that maximum amount begin to decrease on a dollar-for-dollar deduction scale, effectively gearing this tax code toward small and medium-sized businesses.
Large businesses that exceed the $2 million threshold in capital expenditure can take a Bonus Depreciation of 50% on the amount that exceeds the limit. Also, businesses with a net loss in 2013 qualify to deduct some of the cost of new equipment and carry-forward the loss.
Most tangible goods qualify for the Section 179 Deduction. For basic guidelines on what equipment is covered under the Section 179 tax code, refer to this list of qualifying equipment. Note: To qualify for the Section 179 Deduction, the equipment and/or software purchased or financed must be placed into service between January 1, 2013 and December 31, 2013.
. . . . . . . . . . . . . . . . . . . . . . . . . . . . . . . . . . . . . . . . . . . . . . . . . . . . . . . . . . . . . . . . . . . . . .
Check out an example of Section 179 at work: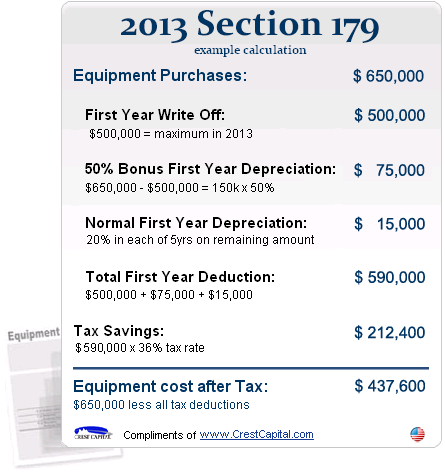 http://blog.purelifedental.com/wp-content/uploads/2013/04/new-again-pulse.jpg
0
0
PureLife Dental
http://blog.purelifedental.com/wp-content/uploads/2013/04/new-again-pulse.jpg
PureLife Dental
2013-12-01 01:54:39
2014-09-19 09:25:19
The Best Tax Code Ever